Ingredients
Ingredients:
Purified Water (Aqua), Cocamidopropyl Betaine,
Sodium Lauroyl Isethionate,
Glycol Stearate,
Cocamidopropyl Hydroxysultaine,
Zinc Pyrithione,
Panthenol (Pro-Vitamin B5),
Aloe Barbadensis Leaf Juice (Aloe Vera),
Symphytum Officinale Leaf Extract (Comfrey),
Hibiscus Sabdariffa Flower Extract,
Vaccinium Angustifolium (Blueberry) Fruit Extract,
Punica Granatum, Seed Extract (Pomegranate),
Cucumis Sativus (Cucumber) Fruit Extract,
Salvia Officinalis (Sage) Leaf Extract,
Decyl Glucoside,
Sodium Cocoamphoacetate,
Glycerin,
Sodium Cocoyl Glutamate
Sodium Cocoyl Isethionate, Carbomer, Guar Hydroxypropyltrimonium Chloride, Phenoxyethanol, Dehydroacetic Acid, Benzyl Alcohol, Sodium Hydroxide, Benzyl Benzoate*, Limonene-d*, Linalool*, Fragrance (Parfum), FD&C Blue No. 1 CI 42090
For Your Hair:
Aloe Vera, vitamin B5, pomegranate, cucumber, and hibiscus flower work together to restore vibrancy, eliminate dryness, stimulate follicles for longer and thicker locks, smooth hair to reduce frizziness, and boost hydration to prevent breakage for soft, silky strands.
For Your Skin:
Comfrey, blueberry, cucumber, and hibiscus flower extracts team up to deliver high-five worthy results for your skin! These natural ingredients reduce the look of blemishes, remove dead skin cells, unclog pores, and improve your skin tone for a fresh look. Additionally, Zinc Pyrithione is an antioxidant used to help reduce acne breakouts through its antibacterial, antimicrobial, and antifungal properties.
For Your Senses:
Who wouldn't want to start -- or end -- the day by breathing in the sweet and fruity fusion of bursting blueberries, vibrant pomegranate, and cooling cucumber to relax the muscles, relieve any stress, and elevate your mood? Our Blueberry-Pomegranate-Cucumber Shampoo effortlessly turns shower time into spa time to help you rejuvenate and restore your energy!
$22.00
$0.00
Blueberry-pomegranate Cucumber Shampoo
"You're as cool as a blueberry-pomegranate cucumber!"
Say goodbye to acne-causing hair and body care products and hello to vibrant hair and clear skin with TEENOLOGY! Our premium products gently cleanse, nourish, and revitalize -- all without the use of sulfates, parabens, or pore-clogging oils. These common ingredients found in many other products seep into your skin, attract bacteria, block pores, and cause "pomade" acne breakouts on your forehead, shoulders, back, and chest. 
TEENOLOGY is different! Containing only the most beneficial ingredients that kick acne to the curb, TEENOLOGY helps you "Be in the Clear" by promoting healthy hair and skin. 
Our invigorating shampoo blend of cool and refreshing blueberry-pomegranate-cucumber stimulates your senses, rejuvenates your skin, and leaves your hair clean, soft, and full of shine! 
16 FL OZ (473 ml)
Directions

Directions:
Thoroughly wet hair, apply shampoo, massage into hair and scalp, completely rinse, and repeat.  Follow up with TEENOLOGY conditioner. For best results, use the entire line of TEENOLOGY hair and body care products.
Customer Reviews
09/07/2020
Sophie
United States
Works!
I was skeptical about trying this because we've tried so many different products for my teen daughters acne. We have spent so much $$ on dermatologists, prescriptions. Gave this shampoo and conditioner a shot and IT WORKS!! We saw results after a few washes. The acne on her forehead, hairline, and back are gone. Highly recommend!
07/24/2020
Shana H.
United States
Loved it!
My daughter and I both use this, actually. And would highly recommend!
07/11/2020
Barbara H.
United States
Newbie
Smells really good... son likes it alot.
06/24/2020
Tiffany P.
United States
Fruits & Veggies for Hair
Smells delicious and my kids love using it. I was worried the mixture of these scents would be noxious, but it actually smells great and leaves hair feeling clean.
04/21/2020
Elisabeth M.
United States
Very Good Product
I originally ordered the blueberry pomegranate because I liked the smell and wanted my hair to smell nice while using a product that helps my acne. Unfortunately, the smell doesn't really last after the shower, but this shampoo really does help a ton! Even though it doesn't have a lasting scent, the results worked quickly and I'm really in love with it.
03/31/2020
Amy S.
United States
WOW . . . what a difference TEENOLOGY has made!
I purchased shampoo, conditioner, and the body wash for my 14 y/o twin daughters and they love Teenology!! They play sports and break out on their forehead and around hairline. WOW . . . .what a difference TEENOLOGY has made. Thank you Teenology. Amy . . . GA
03/31/2020
Stephanie B.
United States
Great fragrance and no more break outs!
my daughter uses the full line of teenology products. As a young teen and track athlete she is prone to acne on her face and back. When she switched her hair products and body wash to Teenology we instantly noticed she had clearer skin. She always travels with her own products and won't use anything else!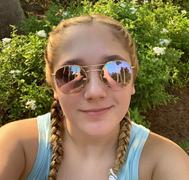 03/31/2020
Sharon C.
United States
Now my teen granddaughter's hair is clean and shiny, and her complexion is clear and healthy. I use it too because of my sensitive skin and I love it!
I bought this for my teen granddaughter to encourage her to take better care of her hair. It is long and I knew it was causing breakouts on her face. I knew it worked, but didn't realize how well until I looked at photos of her from a few months ago. What a difference! Her hair is clean and shiny, and her complexion is clear and healthy. My skin is very sensitive and I have to be very careful about products that I use. I tried it myself and love it. Now when I order for her, I include myself. Thanks for such a good product.
03/14/2020
Dana
United States
Originally skeptical but pleasantly surprised!
This has really cleared up breakouts on my daughter's neck, back and shoulders. Who knew it was shampoo causing most of the issues?
03/14/2020
Noelle .
United States
Great product!
It really worked on my son's forehead acne!