$22.00
$0.00
Blueberry-pomegranate Cucumber Shampoo
"You're as cool as a blueberry-pomegranate cucumber!"
Hair and body care products cause acne, but not TEENOLOGY! Ingredients in other products, such as SULFATES, PARABENS, and certain OILS, seep into your skin and attract bacteria, overstimulate hormones, clog pores, and produce "pomade" acne. These breakouts occur on your hairline, forehead, shoulders, back and chest. TEENOLOGY helps you 'Be in the Clear' by leaving out these harmful ingredients, adding ANTIOXIDANTS, and infusing NATURAL BOTANICAL EXTRACTS that promote healthy HAIR and SKIN.
Directions:
Thoroughly wet hair, apply shampoo, massage into hair and scalp, completely rinse, and repeat.  Follow up with TEENOLOGY conditioner. For best results, use the entire line of TEENOLOGY hair and body care products.
16 FL OZ (473 ml)
Ingredients
Ingredients:
Purified Water (Aqua), Cocamidopropyl Betaine, Cocamidopropyl Hydroxysultaine, Sodium Lauroyl Isethionate, Glycol Stearate, Sodium Cocoyl Isethionate, Sodium Cocoamphoacetate, Sodium Lauroyl Glutamate, Decyl Glucoside, Zinc Pyrithione, Polyquaternium 7, Fragrance, Polysorbate 20, Carbomer, Sodium Hydroxide, Glycerin, Panthenol (Pro-Vitamin B5), Aloe Barbadensis Leaf Juice (Aloe Vera), Symphytum Officinale Leaf Extract (Comfrey), Hibiscus Sabdariffa Flower Extract, Vaccinium Angustifolium (Blueberry) Fruit Extract, Punica Granatum Seed Extract (Pomegranate), Cucumis Sativus (Cucumber) Fruit Extract, Salvia Officinalis (Sage) Leaf Extract, Phenoxyethanol, Dehydroacetic Acid, Benzyl Alcohol, Blue No. 1 (CI 42090)
Customer Reviews
07/24/2020
Shana H.
United States
Loved it!
My daughter and I both use this, actually. And would highly recommend!
07/11/2020
Barbara H.
United States
Newbie
Smells really good... son likes it alot.
06/24/2020
Tiffany P.
United States
Fruits & Veggies for Hair
Smells delicious and my kids love using it. I was worried the mixture of these scents would be noxious, but it actually smells great and leaves hair feeling clean.
04/21/2020
Elisabeth M.
United States
Very Good Product
I originally ordered the blueberry pomegranate because I liked the smell and wanted my hair to smell nice while using a product that helps my acne. Unfortunately, the smell doesn't really last after the shower, but this shampoo really does help a ton! Even though it doesn't have a lasting scent, the results worked quickly and I'm really in love with it.
03/31/2020
Amy S.
United States
WOW . . . what a difference TEENOLOGY has made!
I purchased shampoo, conditioner, and the body wash for my 14 y/o twin daughters and they love Teenology!! They play sports and break out on their forehead and around hairline. WOW . . . .what a difference TEENOLOGY has made. Thank you Teenology. Amy . . . GA
03/31/2020
Stephanie B.
United States
Great fragrance and no more break outs!
my daughter uses the full line of teenology products. As a young teen and track athlete she is prone to acne on her face and back. When she switched her hair products and body wash to Teenology we instantly noticed she had clearer skin. She always travels with her own products and won't use anything else!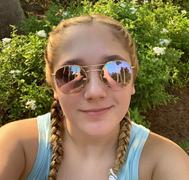 03/31/2020
Sharon C.
United States
Now my teen granddaughter's hair is clean and shiny, and her complexion is clear and healthy. I use it too because of my sensitive skin and I love it!
I bought this for my teen granddaughter to encourage her to take better care of her hair. It is long and I knew it was causing breakouts on her face. I knew it worked, but didn't realize how well until I looked at photos of her from a few months ago. What a difference! Her hair is clean and shiny, and her complexion is clear and healthy. My skin is very sensitive and I have to be very careful about products that I use. I tried it myself and love it. Now when I order for her, I include myself. Thanks for such a good product.
03/14/2020
Dana
United States
Originally skeptical but pleasantly surprised!
This has really cleared up breakouts on my daughter's neck, back and shoulders. Who knew it was shampoo causing most of the issues?
03/14/2020
Noelle .
United States
Great product!
It really worked on my son's forehead acne!
02/25/2020
Annie B.
United States
Great product
God results, great smell!